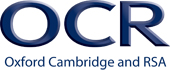 At OCR, we're leading the way with our exciting, modern Computing qualifications – we're the only awarding body to offer Entry Level, GCSE and A Level qualifications in this area.

Find out more

.
Our qualifications are also backed up by the kind of resources and training that make teaching them more enjoyable.
Here's a brief overview of the support we offer:
Support Material

Our support material is designed to save you time while you prepare for and teach our specifications. Our essential FREE support includes all this and more:
·
Specimen assessment materials and mark schemes
·
Past papers and mark schemes
·
Exemplar candidate work
·
Sample schemes of work and lesson plans
Access all our support

here

by selecting the qualification you require.
New! GCSE Computing Unofficial Teacher's Guide

Check out this guide to OCR GCSE Computing from a practising teacher who's also a member of Computing At School (CAS). He shares some highly practical thoughts on how to deliver the content, approach the teaching, and engage students. There are ideas for some useful and fun activities, and tips about tackling more challenging topics.

Download it here
Sign up to teach

Please let us know that you'll be teaching our Computing qualifications.

Sign up to teach

in order to receive the latest information on support materials and resources to help you plan and teach these qualifications: Simply complete the online form

here

.